Andhra maatha

Title of the post gives away what I am trying to accomplish with this post(atleast some of you might have heard this term a lot of times). Yep this is a post dedicated to "Gongura Pachadi(Sorrel chutney)".

Guntur, chilli capital of Andhra Pradesh has many chutneys and pickles native to its region(if you can think of it.. it might have already been made). They have been adapated over the years and now every household has its own version. Gongura pachadi is one of them. Guturians have nick named this chutney "Andhra maatha(mother of Andhra)", a very appropriate name I should say. My mother makes gongura chutney on a daily basis as any meal is not complete otherwise(according to my father). We have a huge patch of sorrel plants in our back yard and our maid's daily duties includes picking these leaves and cleaning them; once in a while when I was looking for an excuse for not studying I used to help her but found myself eating most of the leaves before picking.





Lets get off the memory lane(sunny side) and get back to real world(dark side). First of all you need a bunch of sorrel leaves to make this chutney. I was only able to find these leaves a couple of times during summers. Whenever I could find them I buy them in bulk, pick the leaves from the stems, clean them and fry them in a little oil adding very little salt and later store them in small batches in the freezer. They keep well for a long time and I use them to make chutney, dal or stew at a later time.

Here is what you need:

* Sorrel leaves - 1 bunch
* Green chillies - 6 nos
* Garlic cloves - 2 nos
* Cumin seeds - 1 tsp
* Onion - 2 tbsp(chopped fine)
* Salt - Acc to taste
* Oil - 1/2 tsp

For tempering:

* Mustard seeds - 1 tsp
* Cumin seeds - 1tsp
* Curry leaves - 1 sprig
* Fenugreek seeds - a pinch
* Oil - 1 tsp

Pick the sorrel leaves from the stems carefully; sometimes the stems might have thorns. Clean them and drain the water completely, pat the leaves dry with a kitchen towel.

Heat oil in a pan. Add the sorrel leaves to the pan and fry them till the water from the leaves gets evaporated on medium high heat. Take this into a container and keep it aside.

In the same pan add green chillies and fry them slightly covered, otherwise the vapors generated by them might suffocate a little bit. Keep these aside too.

Now in a blender grind the fried sorrel leaves, green chillies, garlic cloves, cumin along with a little salt. Try to add as little water as possible.

Tempering: Heat a little oil in the pan, add the cumin and mustard seeds. When they start sputtering add the fenugreek seeds along with curry leaves.

Add the tempering to the chutney. I always add chopped onion to the chutney since that's how my mother makes it for us kids(I know I know.. I am not a kid anymore; but hey I believe that there is a kid in everyone's heart). It tastes perfectly fine without the onion too. It goes well with plain rice.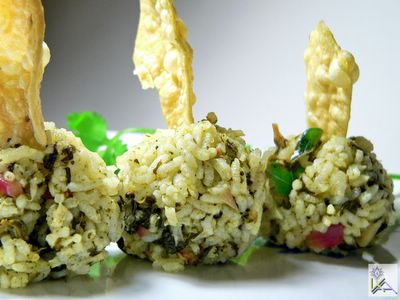 For more Rice Recipes please visit us at: http://www.GumaGumalu.com