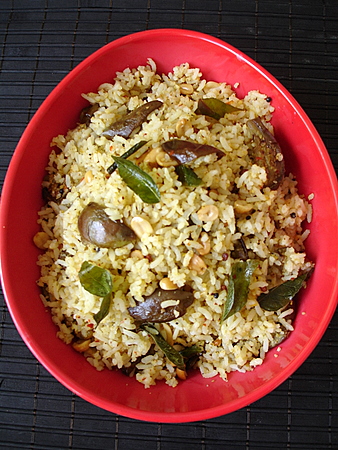 Vangi bath is a Karnataka special and is a fll meal itself.In Karnataka it is prepared with the long green variety of brinjals but Ididn't get that veriety here so I used the normal brinjals

And here is the recipe

FOR VANGI BATH POWDER IN KARNATAKA style............

Coriander seeds -- 1tab sp
Chana dal -- 1 tab sp
urad dal --- 1tab sp
poppy seeds --- 1/2 tea sp
seasame seeds -- 1 tea sp
cloves -- 2 no.
Cinamon --- 1/2 inch stick
Red chillies --- 2-3
Dry coconut -- 2 tab sp
oil -- 1 tea sp
Heat oil in apan and fry all above ingredients till light brown colour and make powder and store in a air tight container.

RICE --- 1 cup
Wash and soak rice in water for 10 min then cook till done and let it cool
Brinjals -- 200gms cut in to 1 inch pieces
potato -- 100 gms peel the skin and cut in ti 1 inch pieces
capsicum --- 1 small cut in to small pieces
Mustard seeds --- 1/2 tea sp
pea nuts --- 1 tab sp
salt to taste
turmeric -- 1/2 tea sp

METHOD:-----

Heat oil and add mustard seeds and let them pop up then add pea nuts fry till golden colour then add potato pieces and let them cook till tender, then add brinjal pieces and fry till almost done

Now add capsicum piecea and fry for few min. then add turmeric powder.salt to taste,vangi bath powder and fry for few more min (if you like you can add 1 tea sp tamarind paste or 1 te sp lemon juice to this).

Now add cooked rice and mix well.
serve hot with any raita or any thin you like.
I like to have this as it is no side dish
and avery good choice for lunch box.