Yep, I got bored with my old template hence the new look to my blog. 45 more hours and I will be done with this on-call, waiting for monday to do my off-call dance. Okay now let's get down to cooking business.
I am a big fan of bitter gourd and luckily Krishna loves it too. I haven't seen many people who like this vegetable but all of my friends like it(like minds concept I guess). It is very good for health especially for diabetics, but it did not gain much popularity due to its bitter taste.
I got this recipe from my mom. You need to fry bitter gourd and onion separately since bittergourd takes a little longer to get cooked and if you cook all of them together you might end up burning onion.

Here is what you need:
*Bitter gourd - 6 nos(medium sized)
*Onion - 1 medium sized
*Cumin seeds - 1/4 tsp
*Mustard seeds - 1/4 tsp
*Curry leaves - a few leaves
*Garlic clove - 1
*Dried red chillies - 4 nos
*Turmeric powder - a pinch
*Oil - 2 tsp
*Jaggery or brown sugar - 1 tsp
*Salt and chilli powder - according to taste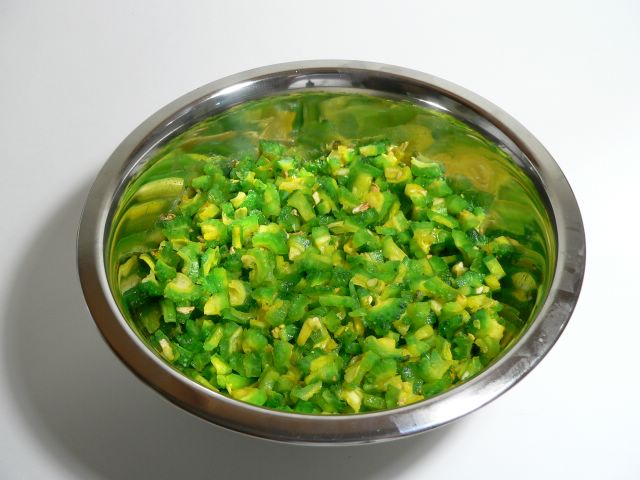 Slice the bitter gourd into very small pieces. Add salt and turmeric powder to the bitter gourd and let it sit for a few minutes. Squeeze them and remove the juice that you obtain by squeezing them. Heat 1 tsp oil in a pan and add bittergourd pieces to the pan along with salt. Fry them until they turn a little brown.



Heat 1 tsp oil in a different pan and add cumin, mustard seeds to the pan. When the seeds start sputtering add crushed garlic, whole red chillies, curry leaves. Add onion and fry them til they turn a little brown; now add the fried bitter gourd pieces to this. Let them cook till they are done and add chilli powder, crushed jaggery(you can substitute this with brown sugar if you don't have jaggery on hand). One thing I have learnt from my mom is not to add chilli powder until the fry is completely done otherwise you will be suffocated by the sharp smell produced by the chilli powder which will leave you sneezing in no time.

For more Rice Recipes please visit us at: http://www.GumaGumalu.com